In the spirit of Halloween and West Virginia, (where the Roadshow will sojourn for the next 2 weeks) I'd like to share some ghost-lore from the area.  This tale is the only one of it's kind.  The legend of the Greenbrier Ghost recounts the event where the testimony from the supernatural being was used in the conviction of a murderer.  So, light up that jack-o-lantern, refill the candy corn dish, and take a deep breath of fright  with your cider.
The Greenbrier Ghost

Zona Heaster Shue
At twenty-three, Zona Heaster felt she had found love in a local blacksmith named Erasmus Stribbling Trout Shue. Zona's mother, Mary Jane Heaster, disagreed. Something appeared fishy about this man, and it wasn't just his name. But despite her mother's protests, Zona and Erasmus married on October 20, 1896. The marriage lasted only three months.
On January 23, 1897, Erasmus Shue sent a young boy, Andrew Jones, to his house to see if Zona needed anything from the store. Andy arrived to find Zona stretched out at the bottom of the stairs with her feet together, one arm on her abdomen with her head tilted to the side. Thinking she might be asleep, Andy crept closer only to discover that her eyes were open and unblinking. He raced home to tell his mother, who notified the local doctor and coroner, George W. Knapp.
By the time Knapp arrived at the Shue home an hour later, Zona's body had been moved to an upstairs bedroom by her husband. Not only had he moved the body, Shue had redressed the body—a dress that just so happened to have a very high and stiff collar—and covered her face with a veil.
Despite this, Knapp attempted to examine Zona's body, but could not find anything out of the ordinary except a slight discoloration on her right cheek and neck. Of course, Shue severely hampered Knapp's examination as he refused to leave his wife's side but chose to cradle his wife's head while sobbing hysterically. Eventually, Knapp gave up. At first he declared that she had died of "an everlasting faint" (known today as a heart attack) but later changed the cause of death to "childbirth." Although Zona may have been pregnant at the time of her death—Knapp had been treating for "female trouble"–she had not recently given birth. (Zona had given birth to a child two years earlier, an event which caused quite a scandal because the child's father refused to marry her.)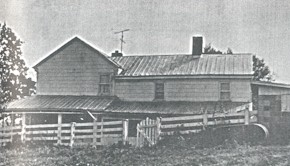 Shue House
Zona's body was taken back to her parent's home for the wake and burial. Shue appeared to be beside himself with grief. He never left his wife's side, but kept a constant vigil by her the head of her coffin. Still, people noted that he behaved strangely, even for someone grieving. He allowed no one near the coffin. He had also placed a pillow on one side of her head and a rolled up sheet on the other side to help her "rest easier." Then, he tied a scarf around her neck claiming that it had been Zona's favorite.
At some point, Mary Jane removed the sheet from Zona's coffin and tried to return it. Shue refused to take it. Noting that the sheet had an odd odor, she decided to launder it. When the white sheet was placed into the water, the water turned bright red and stained the sheet. However, when Mary Jane removed some of the water from the basin, it was clear. She took this event as a sign from her daughter. For four weeks, she prayed and asked her daughter to appear to her. Finally, she got her wish.
Late one night, Mary Jane was awoken by a bright light in her bedroom. Slowly, the light transformed into the form of Zona's ghost. Zona then told her mother of the abuse she had endured during her brief marriage. The abuse finally exploded on the night before her body had been found. That night, Shue attacked Zona in a rage because he thought she had not cooked any meat for his supper and broke her neck between the first and second vertebrae. As proof, Zona turned her head completely around until she was facing backwards.
Zona returned to visit her mother four times before Mary Jane took her story to John Alfred Preston, the local prosecutor, and asked him to reopen the investigation into Zona's death. Preston did not feel that a "ghost" justified such an act, but he was troubled by the rumors that had been circulating around town about Zona's death. He decided to talk to Dr. Knapp. Knapp admitted that the autopsy had been incomplete. The two decided to exhume Zona's body and do a full autopsy, if for no other reason then to end the speculation that Zona had been murdered.
Not surprisingly, Shue vigorously complained about the exhumation. He proclaimed that he knew he would be arrested once the investigation was complete "but they will not be able to prove I did it." Shue was required to attend the autopsy, which took place in the Nickell School House on February 22, 1897 (children were released from school for the day).
During the autopsy, Knapp cut an incision along the back of Zona's skull in order to remove and examine her brain. When he did, he discovered that Zona's neck had been broken. According to the official report "the discovery was made that the neck was broken and the windpipe mashed. On the throat were the marks of fingers indicating that she had been choken [sic] … the neck was dislocated between the first and second vertebrae. The ligaments were torn and ruptured. The windpipe had been crushed at a point in front of the neck."
Shue was immediately arrested, despite the fact that, besides Zona's ghostly visitations, the evidence against him was mostly circumstantial. It was while he was in jail that Shue's past came back to haunt him in another way. The prosecutor, and everyone else in the town, learned that Zona was not Shue's first wife. She was his third. His first wife, Allie Estelline Cutlip, had divorced Shue in 1889 while he was in prison for stealing a horse. In her divorce decree, Cutlip claimed that Shue repeatedly beat her and was abusive. Shue then married Lucy Ann Tritt in 1894. Eight months later, Lucy was found dead under "mysterious circumstances." According to Shue, she had fallen and hit her head on a rock. Few believed him, however, and in the fall of 1896 Shue left town, eventually making his way to Greenbrier.
Shue seemed unbothered by these revelations. While in jail, he boasted that his lifelong goal was to have seven wives. Since he was still a young man, and his guilt in Zona's death could not be proven, he did not see anything that would prohibit him from obtaining this goal.
Shue's trial began on June 22, 1897. Although many people were called as witnesses, the highlight of the trial was Mary Jane's testimony. The prosecution had no plans having Mary Jane tell how Zona had appeared to her. Not because it seemed unbelievable, but because said testimony was "hearsay" (even if it was second hand communication from a ghost.)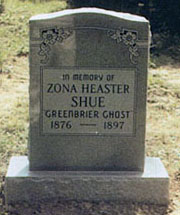 Zona's gravestone
Such testimony is not allowed … unless it is brought up by the defense. Shue's attorney, not the prosecution, decided to bring up Mary Jane's claims to have seen her daughter's ghost. The attorney attempted to badger Mary Jane, either to make her less certain or to make her appear crazy. His efforts backfired. The jury believed Mary Jane's testimony and found Shue guilty, ten of the jurors even voted that Shue should be hanged. Since the vote for Shue's death was not unanimous, he was sentenced to life in prison. Shue died in West Virginia State Penitentiary in Moundsville on March 13, 1900. He is buried in an unmarked grave.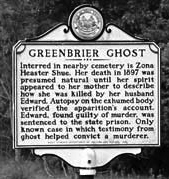 Highway Marker in Greenbrier
Zona's ghost made no more appearances to her mother, but she has left her mark on history. If you travel down Route 60 in West Virginia you can find a historical marker outside Sam Black Church. The marker reads "Greenbrier Ghost" that reads, "Interred in nearby cemetery is Zona Heaster Shue. Her death in 1897 was presumed natural until her spirit appeared to her mother to describe how she was killed by her husband Edward. Autopsy on the exhumed body verified the apparition's account. Edward, found guilty of murder, was sentenced to the state prison. Only known case in which testimony from ghost helped convict a murderer."
The Greenbrier Ghost historical marker can be found on US Route 60 (eastbound) where it junctions with I-64. Zona Heaster Shue is buried in Soule Methodist Church Cemetery. The house where Zona died and the one where she appeared to her mother are both private residences.